My workflow in writing and maintaining this wiki ​
The entire wiki of 1,000+ topics are markdown files that built with VitePress.
I write and edit all the markdown files in this wiki from Obsidian or Sublime Text. Use vim plugin for both.
I use this Alfred workflow to quickly search through all the .md files that are found in this wiki.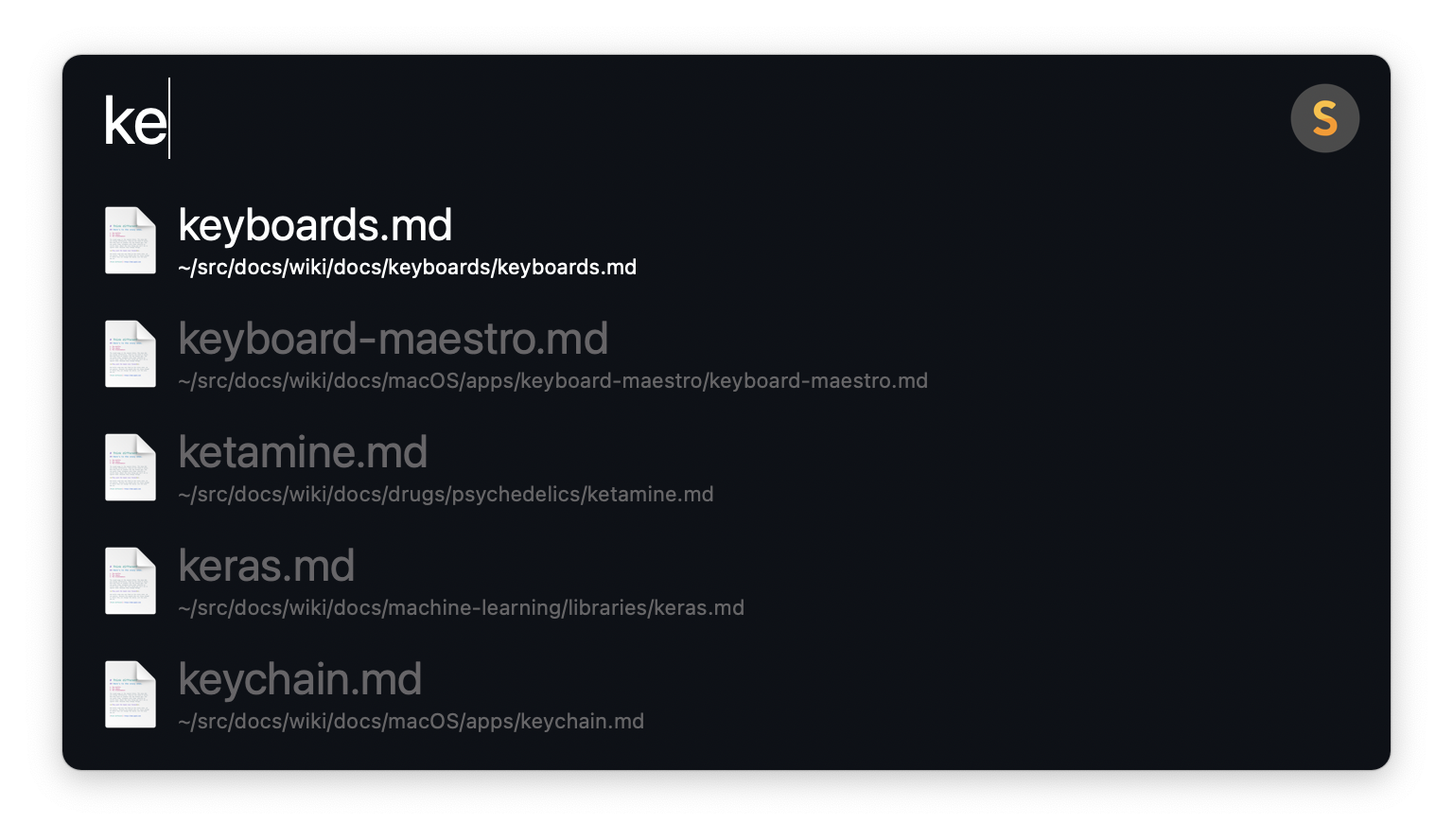 I wrote a comment that goes in more detail over the ways I update the wiki.
I also use Alfred My Mind to search for wiki entry to open/share.
For private notes, I use Apple Notes app and Telegram saved messages. Eventually LA will replace all the above note taking tools.
Editing on iOS ​
Mostly I write messages to myself on Telegram and transfer it later to my wiki on mac.
Making notes on books/papers ​
When reading books/papers, I annotate PDF files with Preview and ePub files with Books app. Once I read the book/paper I transfer the annotations to the markdown file and connect the file to wiki. I often write a review on Goodreads and add the review and notes I made to books.
This system needs improvement though and I want to try using Readwise and more automation for both reading things more efficiently and taking notes.
Abbreviations ​
LA = Learn Anything
KM = Keyboard Maestro. Will often reference KM macros I made.
repo = GitHub repository
bound to .. = may say things like bound to v + r which means that I created an action that activates when I hold v key and then press r. For how that works read this.
Years in Links ​
Nearly every page in the wiki has a ## Links section. Those are essentially my bookmarks. I add a year in brackets to links like (2017) which stands for the year the resource be it article/video/.. was published in.
I wrote an Alfred workflow that as the name suggests, acts as my second brain that I use to quickly access anything I have indexed for myself. I share it because I wish other people took this idea and made their own Alfred My Mind or a Knowledge wiki but for their own use. Sharing knowledge and tools like that is very powerful and makes a big difference. As I use and reuse other people's work and knowledge many times a day. It never hurts to add to the mix.
I want to visualize knowledge and thoughts and ideas I have and share most of these things with other people through this wiki, the longer articles I write, the YouTube videos I make and of course finally through the code I write to make useful tools, apps and interactive visualizations that all can use and enjoy.
Future improvements ​
I want to:
Similar wikis I liked ​
Wiki software ​
Notes ​
Links ​